Following up on Ford's internal investigation on the 2019 Ford Ranger into inaccurate fuel economy testing, a distinguished law firm has filed a class action suit against the automaker. With the law firm's past history of success, this could very likely mean 2018-19 Ford F-150 and 2019 Ford Ranger owners could receive a check paying them back for falsified fuel economy claims.
The falsified claims boil down to inaccurate stating of what's known as "road-load estimations." More specifically, the law firm suggests the "coastdown" portion of the test was not reported accurately which relates to drag and rolling resistance. The claim is these figures were misstated by upwards of 15 percent for highway driving on the F-150 and 10 percent of city driving.
This adds up to thousands of dollars spent on extra fuel costs and this could result in these truck owners eventually getting a refund check for the difference. That is IF Ford followed the same testing procedures for the F-150 like it did the Ranger.
The suit is ongoing and likely will finish up on the heels of the federal probe into the matter.
Hagens Berman Sobol Shapiro filed the lawsuit and savvy readers will recall they are the same lawyers who were involved in the $14.7 B Volkswagen emissions suit, the $1.6 B Toyota unintended acceleration suit and a $206 B Phillip Morris suit which was the largest in litigation history. In short, they know their stuff.
The official press release is below:
LAWSUIT SAYS FORD'S FALSE DATA IS COSTING OWNERS OF THE MOST POPULAR VEHICLE IN THE WORLD – THE F-150 – AN ESTIMATED $2,000 EXTRA IN FUEL
DETROIT – Consumers today filed a new class-action lawsuit accusing Ford of falsifying tests related to the fuel economy of the most popular vehicle in the world, the Ford F-150, according to attorneys at Hagens Berman.
Ford announced on Feb. 21, 2019 that its employees had raised concerns regarding how Ford was calculating road loads, which are used to provide the EPA with vehicle MPG ranges. Ford later disclosed that the Department of Justice has opened a criminal investigation over Ford's testing processes for its 2019 Ford Ranger. The probe currently focuses on Ford's road-load estimations, including analytical and coastdown procedures used to determine EPA fuel-efficiency figures. Plaintiffs bringing today's lawsuit now allege that this road load issue has effected the best-selling Ford F-150.
According to testing conducted by plaintiffs following EPA-mandated coastdown procedures, Ford has overstated the fuel economy in its F-150 trucks by 15 percent for highway mileage and 10 percent for city mileage. Assuming the lifetime of a truck is 150,000 miles, city driving would consume an extra 821 gallons over the lifetime of the truck, or at $2.79 national average fuel price, an extra $2,290 in fuel costs. The highway extra fuel (actual MPG compared to Ford's reported MPG) is 968 gallons or $2,700.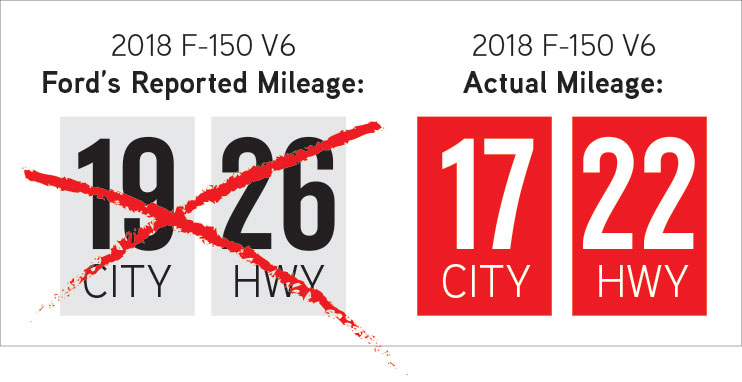 Looking at the 2018 sales of F-150s and assuming that 70 percent are V6 F-150s, there were 636,000 trucks sold, the lawsuit states. Total additional fuel cost for that one model year would be $1.4 billion for city fuel, $1.3 billion for the highway rating or $1.2 billion for the combined rating.
BILLIONS IN DAMAGES
"There is no reason to assume Ford overstated mileage on just the V6 model 2018 F-150," the lawsuit states. "Ford sold over 1 million 2018 F-150's. The extra fuel costs, with the same assumptions above, for all 2018 F-150's is $2.32 billion for city driving, $2.09 billion highway, and $1.9 billion combined. The F-150 2019 is virtually identical in engine and body configuration. So it is plausible the 2019 coastdown figures are also overstated."
The lawsuit filed July 22, 2019, in the U.S. District Court for the Eastern District of Michigan includes anyone who purchased or leased a 2019 Ford Ranger, or 2018 or 2019 Ford F-150, with attorneys expecting to expand the affected models and model-year vehicles affected, as testing continues.
If you own or lease a 2019 Ford Ranger, or a 2018 or 2019 Ford F-150, find out your rights.
"We did the math and based this lawsuit on our own independent research. Ford's fuel economy promises are all smoke and mirrors," said Steve Berman, managing partner of Hagens Berman. "Ford's lies about the F-150 are masking the truth: consumers are paying far more for these trucks than meets the eye. Over the lifetime of the vehicle, we believe F-150 owners are paying more than $2,000 more for fuel because of Ford's sham."
"Our investigation continues, and we expect to find that Ford has lied about the fuel economy of more model-year trucks," Berman added. "Ford is facing a $1.2 billion lawsuit, at minimum, and that number is very likely to increase as other models and model-years are added."
Hilliard Martinez Gonzales LLP and Goldenberg Schneider LPA also represent plaintiffs in the case.
HOW FORD CHEATED COASTDOWN TESTS
Attorneys say the fuel economy cheating relates to the vehicle coastdown test, a procedure that determines metrics used to calculate fuel economy values. The coastdown test indicates how much rolling resistance and drag a vehicle has, so that when a vehicle is testing on a dynamometer, as required by regulations, the manufacturer knows how much drag and rolling resistance to apply to the vehicle to simulate the road.
"Ford fudged its coastdown testing and used inaccurate drag and resistance figures to boost the vehicles' EPA mileage ratings," the lawsuit claims. "Testing of the 2018 F-150 using the mandated coastdown procedure reveals that Ford did not follow appropriate coastdown testing procedures."
Ford miscalculated "Road Load," which is a measure of those forces, defined as the force that is imparted on a vehicle while driving at a constant speed over a smooth, level surface from sources such as tire rolling resistance, driveline losses and aerodynamic drag. This measure is critical to the simulation of actual driving when a vehicle is tested in the laboratory, the lawsuit states. Ford's internal lab tests did not account for these forces, which lead to better – and entirely inaccurate – fuel economy projections, and claims that the vehicles emitted less pollution than they emitted in reality, attorneys say.
FORD'S INCENTIVE TO CHEAT FUEL ECONOMY RATINGS
"Fuel isn't cheap," Berman said. "Ford knew that fuel economy matters to consumers, and it had incentive to cheat to make the F-150 as appealing as possible."
The lawsuit says Ford's motives in overstating vehicle miles per gallon were to advertise the vehicles as "Best in Class" for fuel economy, beat competition, attract consumers and obtain more credits for Ford under environmental regulations.
Ford sells more than one million F-150 trucks annually.
The lawsuit seeks to recover damages related to the falsified fuel economy of affected Ford F-150 trucks, as well as injunctive relief halting Ford's design, manufacture, marketing, sale, and lease of the trucks. The suit also seeks punitive damages under certain laws for Ford's alleged knowledge of its misrepresented fuel economy prior to sale of the trucks.
The suit names 65 total counts against Ford, accusing it of fraudulent concealment, negligent misrepresentation, deceptive trade practices, unjust enrichment, fraud, breach of warranty, false advertising and violation of dozens of state consumer-protection laws.
Read more about the class-action lawsuit against Ford regarding its F-150 trucks.